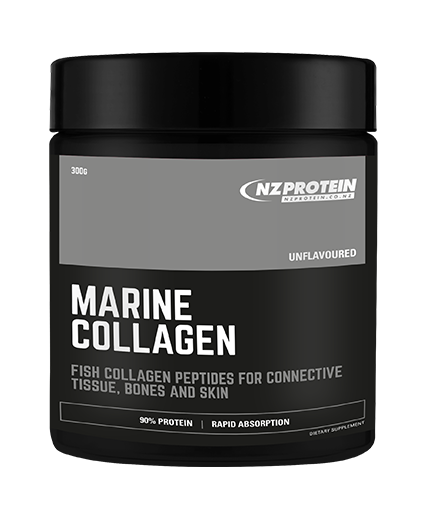 Marine Collagen 300g
Fish Collagen Peptides For Connective Tissue, Bones and Skin.
Marine Collagen NZ
This product is premium fish collagen peptides for connective tissue, bones and skin.
It has been hydrolysed into an easily dissolvable, rapid-digesting form. It's also tasteless and odourless.
Fish collagen has a molecular weight of 2,000 daltons. The low molecular weight and smaller particle size means that fish collagen may be absorbed in the body up to 1.5 times more effectively than other types of collagens. This makes it highly bioavailable.
For this reason marine collagen is thought to promote more collagen synthesis in bones, joins, skin and so forth than other types of animal collagen.
This product is Peptan® from France as New Zealand does not produce collagen. Most marine collagen in NZ is from France. It's from wild caught sustainable white fish.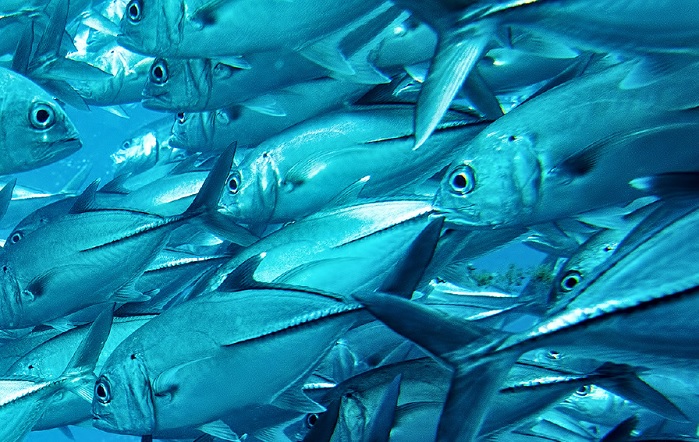 Hydrolysed Collagen
Collagen is the connective tissue that accounts for up to 30% of proteins in our body. It makes up 90% of connective tissue, 90% of organic bone mass, and 70% of our skin.
It is the most important structural protein in our body and the primary protein in connective tissue such as bones, tendons, ligaments and cartilage.
Collagen is made primarily of three amino acids - proline, hydroxyproline and glycine. Glycine and proline are 10-20 times more concentrated than in other proteins and collagen has a unique structure that can't be found anywhere else.
This unique structure means collagen protein has unique functional properties over other proteins such as whey and casein, partially attributing to joint health, gut health, muscle growth, and an overall glowing appearance.
Collagen Supplements
Collagen supplements are relatively new but offer many benefits for joint and gut health, muscle growth, and skin appearance.
Collagen production naturally begins to slow from our early 20s and by the time we are in our 60s collagen levels are around half. This can give way to joint stiffness, weaker bones, more wrinkles, saggy skin, and thinner hair and nails.
There are 16 types of collagen in our body and this product is type one which is the most common type and accounts for 90% of collagen in our body. It is made of densely packed eosinophilic fibres which form skin, tendon and connective tissue, ligature, organs, and the components of bone.
Type one collagen is very important for wound healing, giving skin its stretchy and elastic quality, and holding together tissue so it doesn't tear. Type one collagen fibrils are stronger than steel, gram for gram.
Marine (Fish) vs Bovine (Cow) Collagen
Collagen is an animal product and may be extracted from various sources such as cows (bovine), chicken, or fish (marine). It is structurally all the same, though the amino acid ratio and concentration may vary between sources.
Bovine and marine sources are the two most common types sold on the market and this product is fish collagen.
Marine collagen has a lower particle size and is thought to be up to 1.5 times more bioavailable than other types, but the cost is nearly double. We stock bovine collagen here.
The Best Collagen Supplement in NZ
When evaluating collagen supplements there are several factors that must be taken into account.
There is a lot of marketing done by some collagen brands, especially towards customers in the beauty field.
Please note that collagen is collagen and to find the best collagen for you, we have summarised some key points:
Find one that's the best price as some companies put huge markups on theirs. We sell ours for a lower price for no other reason than our margin is less.
By the same token, be aware of well targeted marketing.
Marine, bovine, or other sources of collagen don't really matter too much. Collagen is collagen. This mostly comes down to personal preference.
Some companies add ingredients to create extra value, such as vitamin C. These increase the price and don't necessarily do much.
There is no such thing as vegan collagen peptides (only vegan 'collagen boosters').
Joint and Skin Health
Collagen forms the elastic netting that supports the protective tissues in joints and is essential to giving skin elasticity and strength.
In this study 147 athletes suffering from activity-related joint pain were given collagen hydrolysate as a dietary supplement and experienced reduced joint pain when resting, walking, lifting, standing, and carrying objects.
Studies have shown that hydrolysed collagen is absorbed in the gut and then delivered to skin and joints through the blood stream. As you age, your body produces less and lower-quality collagen. One of the visible signs of this is in your skin, which becomes less firm and supple. Cartilage also weakens with age.
Collagen may help to prevent stretch marks from forming by increasing skin elasticity.
Collagen peptides may also help reduce signs of aging like wrinkles, dryness and sagging skin. In this study 69% of people saw visible reductions in their facial lines.
Collagen Protein Powder
Hydrolysed collagen is a relatively new protein powder. It is an excellent source of high-quality protein (>90%) with no fat or carbohydrates. It's easily-dissolvable, rapid-digesting, odourless and tasteless (unflavoured). Supplementing with it is an easy way to increase protein intake to assist with joint and connective tissue repair.
Collagen contains 18 amino acids, including eight out of nine essential amino acids. Because one of the nine essential amino acids is not present (tryptophan) it is not technically a complete protein. Therefore it may not be the best protein shake to have after exercise if trying to achieve maximum muscle development.
Due to the way your body uses amino acids to build muscle, bone, cartilage, skin, hair, connective tissue, etc - this product is better thought of as a supplement for supporting connective tissue and joint strength.
It can be taken anytime of the day. It can be mixed with water and sipped throughout from a drink bottle, combined with a NZProtein shake, added to hot beverages, and/or smoothies. It also performs well in baking.
Gelatin and Bone Broth
Gelatin is basically the cooked form of collagen, ie - collagen that's been only partially hydrolysed. The partially hydrolysed chains retain water which cause gelatin to gel, which is why it's used as an agent for thickening stews and desserts.
When collagen breaks down it becomes gelatin. Because gelatin is derived from collagen they both contain the same nutrients.
Gelatin and collagen are found naturally occuring in bone broth and cuts of meat that contain skin and bone (such as chicken skin and pork skin).
Bone broth is made by slowly cooking bones and cartilage to form gelatin. Collagen peptides are more readily absorbed into the bloodstream than gelatin, which can be harder to digest.
Some people may find taking hydrolysed collagen easier to take than gelatin because it's quick and convenient, cold-water soluble, and easy to digest.
Gut Health
Collagen is found naturally occuring in the connective tissue of the gut. It may help to support the protective lining of your digestive tract against leaky gut, where particles bypass intestines into the bloodstream. More research on this needs to be conducted.
Side Effects
There are not many known risks for taking hydrolysed collagen. It may cause feelings of fullness and heartburn.
Not enough is known about safety during pregnancy and breast feeding.
Collagen is an animal product and is not vegan friendly.
Recipes
Please note that this product is processed in a facility that also handles milk, egg, soy, peanut, and gluten ingredients.
---
Rated
4.81
/
5
Based on
32
customer reviews.
Love this Marine Collagen!!
It's much cheaper than other (overpriced) brands which NZ socialites do paid partnerships for. It gives better results than them too (I've tried several brands).
My hair, skin and nails is amazing since taking this product.
My reason for not giving it 5 stars is due to the foul taste and the packaging.
I can't understand why customers say they don't notice it. So I just hold my nose and skull it back which the makes it palatable.
The packaging is awful to use; due to the seal being hard to open/close (the powder is sticky, especially if moisture occurs). Thankfully I saved the original product tub which i wash and re-use.

But.. don't let the cons I've mentioned stop you from purchasing it. Well worth it! :)
This product is not odorless, I can smell and taste it and it makes me gag. It also makes me extremely nauseous, I googled whether marine collagen does this and it appears this is common for new users. I've been using it for two weeks and I still feel sick.
Bought this for joint and skin health. I haven't been taking it for long enough to know if it will help. NZ Protein shipped really quickly and I knew when my order was arriving.
I guess it's good, BUT there's a strong FISHY TASTE. Next time I'll go for the hydrolysed collagen.
Great product mixes well, tastes fine. Will keep ordering. NZ protein is always reliable with good prices.
Easy to use on cereal, smoothies, or oatmeal. No taste really, so can add to juices as well.
Have been using for a few months and feel my nails are stronger and new hair growth where I was thinning slightly so am happy with product so far.
I can only assume this product is what it says on the packet. But, the price for Marine Collagen was the best I found. I put it in my smoothies. Practically tasteless. Very happy!
Dissolves easily and smoothly in my morning coffee, love having such an easy was to include collagen in my breakfast.
Great service so quick to pack and send.
Mixes well and tasteless. Perfect.
Very Good product. I can see it in my nails hair and skin. Love it!
I've only just started taking it, as a defensive health protocol; so am not really expecting any great noticeable improvements in well being, as my health is generally good at this time. But your collagen drink is easy to prepare, and goes down smoothly. A good product.
Dissolves easily; lovely as creamer, in conjunction with the MCT powder.
I got what I paid for good product although your web page needs reviewing
Great collagen - I am a repeat customer, dissolves well into hot drinks, no after taste or horrible smell at all.
First time I have used it and feel my skin is definatley looking better. I will be buying again.
Great product & quick delivery! This is the only Protein Collagen I have tried which does not upset my stomach. I will definitely be buying more =)
Happy so far! Easy to drink, no taste and great way to get protein and collagen.
I'm happy with this collagen, it made my skin firmer, nails stronger and hair healthier looking.
I take it in my yoghurt every morning.
I noticed, at first glance, that granules are far finer than bovine collagen. Very easy to dissolve in water, like the bovine collagen. But I found that digestion of marine collagen much easier than the bovine equivalent.
I am an old arthritic lady, so I never know what my digestive system will accept.
But this marine collagen is great!!
Thank you!!
fantastic product! I really appreciate the informative detailed description and explanation on the website that helped me to decide to go for a slightly more expensive collagen powder (marine, as opposed to bovine), especially that is was still affordable from this company. The unflavoured version is perfect for me because it has zero carbs. The powder dissolves in coffee and has no taste. I wouldn't be able to tell the difference at all. I have been using it for 1 week, so I am not yet sure about the difference it makes - but I will definitely keep on using it, hoping that it will help with healing my joints.
The only advice I have is: do not let the coffee go cold when it has this powder in it because little gelatinous grains settle on the bottom. :)
Great product, sorry guys the order hasn't arrived yet
In two weeks I've noticed improvement in my skin and nails... There's no flavour so I take everday with my cereal in the morning. Highly recommended !
Definitely the best collagen by far. This will definitely be a monthly purchase. Super impressed.
Great product. Tasteless and mixes well. Best price on the market too.
In only 2 weeks my nails got stronger! I didn't notice difference in my hair yet but my skin feels firmer. I'm very happy with this product. It's quite tasteless so I add it to my cereal bowl or drinks. I totally recommend!
Great product - mixes really well in coffee with no flavour, and a great price compared to competitors.
I wouldn't say it's completely tasteless, but maybe that's on me - I tried mixing with just water and it definitely tasted weird. I had to mix in a bit of passionfruit syrup to make it palatable.

However, it doesn't change the flavour profile of anything I've used it in so far - chia pudding, smoothies, chicken broth.
Great product, I add it with my morning protein shake and dont notice any taste. I noticed a difference in my skin and hair after only a short time taking it.
Same product I've been buying from elsewhere but much cheaper, highly recommend +
Recently learnt about Collagen, tried the other collagen first and liked that. Thought I'd try this one this time. Have noticed a major difference in my nails and hair. Will continue to buy this one. Have recommended to some friends
Dissolves easily and mixes well with protein shake, haven't tried it in anything hot yet. Has a fairly neutral taste but I prefer it with flavoured protein mix, fluffs up when shaken. Will purchase again, quality product. Love the branding/packaging.
Click on a flavour to see the nutritional information.
Serving size: 10g (two scoops)
Servings per pack: 30
| Name | Ave Quantity Per Serving | Ave Quantity Per 100g |
| --- | --- | --- |
| Energy | 153kJ | 1530kJ |
| Calories | 36 | 360 |
| Protein | 9g | 90g |
| - Gluten | 0g | 0g |
| Fat - total | 0g | 0g |
| - Saturated | 0g | 0g |
| Carbohydrate | 0g | 0g |
| - Sugars | 0g | 0g |
| Sodium | 12mg | 120mg |
| Calcium | 0.6mg | 6mg |
Ingredients: Hydrolysed Collagen (Fish Origin). Source: France.
(g per 100g protein)
Branched chain aminio acids:
| | |
| --- | --- |
| Isoleucine | 1.1g |
| Leucine | 2.7g |
| Valine | 2.2g |
Other essential aminio acids:
| | |
| --- | --- |
| Lysine | 3.4g |
| Methionine | 1.4g |
| Phenylalanine | 2g |
| Threonine | 2.9g |
Non essential aminio acids:
| | |
| --- | --- |
| Alanine | 9.5g |
| Arganine | 8.9g |
| Aspartic Acid | 6g |
| Glutamic Acid | 11.5g |
| Glycine | 21.2g |
| Histidine | 1.1g |
| Hydroxylysine | 1g |
| Hydroxyproline | 10.1g |
| Proline | 10.7g |
| Serine | 3.7g |
| Tyrosine | 0.3g |